Kashan is one of the historical cities of Iran which is one of the most important cities of Isfahan province and is located among the mountains of Iran's central Karkas and Desert. The city is about 1600 meters above sea level and its distance from Tehran is 250 kilometers. Following, read about Kashan House.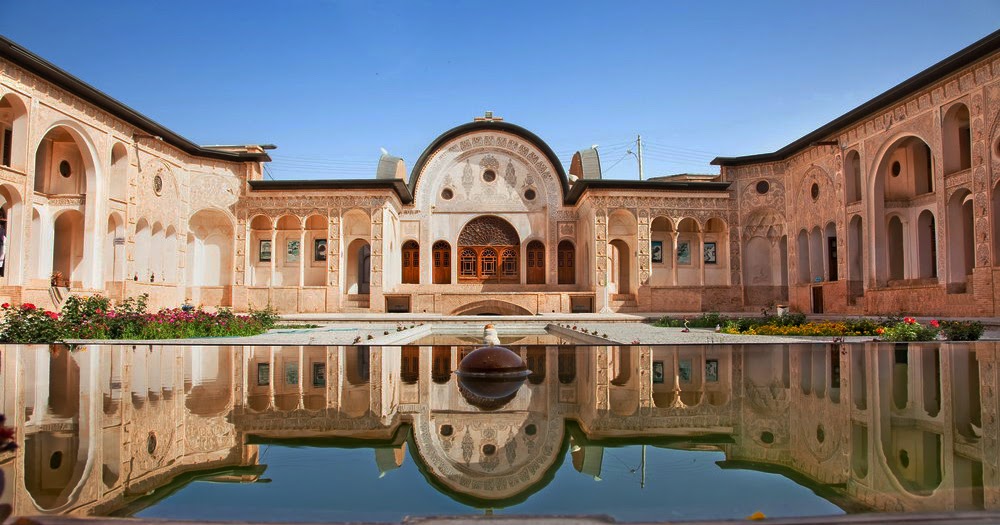 Tabatabie House, Kashan
The most famous Historical Houses in Kashan are certainly Tabatabie house, with a unique architecture that attracts many tourists. The old mansion is as old as 186 years old, and includes three interior, exterior and crew specialties. Each of these buildings is decorated with luxurious and unique appearance.
Broujerdiha House, Kashan
Another historic house suggested in Kashan is sure to visit Borujerdiha house. This mansion dates back to the Qajar era and dates back to 130 years. The architecture of this building is considered one of the architectural masterpieces of Kashan and is very similar to the Tabatabie house.
However, it is interesting to note that this similarity is due to the fact that the son of Mr. Boroujerdi, who loved the daughter of Mr. Tabatabaie, had sued him and the condition of Mr. Tabatabie it was to build a mansion similar to his own house for his daughter.
Ameriha House, Kashan
Among other Historical Houses in Kashan, Ameri House is one of the most beautiful and largest historical buildings in Kashan, is also mentioned. However, this mansion is currently a 5-star guesthouse catering for many tourists, dating back to Zandieh era. Anyway, the mansion has nearly 80 rooms and 7 yards, and its interesting point is that this house has the highest winding among all the historic houses of Kashan.
Sharifian House
Sharifian House dating back over 210 years old is another historic building of Kashan. However, the house is a combination of three space collections, two of its most important collections in two levels, on the northern and southern fronts of the courtyard.
Manuchehri House
Manochehri House is one of the Historical Houses in Kashan, which has now become a beautiful traditional residence and dates back to 400 years ago. This monument can be considered one of the architectural masterpieces of Iran located in the Historical Houses in Kashan. On the top floor of this mansion is a gallery that welcomes artists from that area.
Raisin House
Beautiful one, Raisin House is located and dates back to the Qajar period. However, the unique mansion, which is one of Historical Houses in Kashan that has two independent and outer courtyards, each representing both internal and external sections. The houses are built in both courtyards in four sides and formed in three floors around them.
Ehsan House
Ehsan House is a Historical Houses in Kashan related to the Qajar period and dates back to 100 years ago. This monument is located on Fazel Naraqi Street and Alley of Culture, and in 2005 it was able to enter the national register. It should be noted that at present, with the change of user, this house has become a traditional residence of Iranian and foreign tourists.
Razaghian House
The city of Kashan is relatively small and its historic buildings are very small. Another Historical Houses in Kashan is the Razaghian House. However, this house is located on the site of Torbat and dates back to the Qajar era.
Aََbout Raheb House
Amazing one, Raheb House is one of the most famous Historical Houses in Kashan dating back to the Qajar period and Pahlavi. Furthermore, the main part of this house consists of two mirages, a shah, a vestibule of entrances, a summer yard, a winter owl and a windbreak, and now it is considered as a traditional guesthouse with good accommodation facilities.
Hosseini & Bani Kazemi house
However, Hosseini and Bani Kazemi House is another Historical Houses in Kashan which is  is based on the existing evidence of the early construction of the Qajar era, including houses with outer and inner courtyards.
Iran Destination
Iran Destination is a well-known Iran Tour Operator which makes you the best travel to Iran. So before you travel to Iran, make sure you visit our Iran Tour Packages. Please feel free to contact us regarding any issue. Our Iran Travel Agency is ready to help you by any means.
However, for any further information regarding our tours and offers, please click on our best selling Iran tours:
For any further information regarding travelling to Iran, please follow our Instagram.