This post is also available in:
Deutsch (German)
Español (Spanish)
Ganj Ali Khan Bath
The Ganjali Khan Bath belongs to Safavid-era which is located in the old center of city of Kerman, Iran. The Ganj Ali Khan complex includes of a school, a square, a bathhouse, a caravanserai, an Ab Anbar, a mint, a mosque and a bazaar.
Ganj Ali Khan Complex
Ganj Ali Khan Complex is composed of a school, a square, a caravansary, a public bath, a water reservoir, a mint house, a mosque and a bazaar. Also, the GanjAli Khan complex covers an area of 11,000 square meters and centered on a large public square—ninety-nine meters by fifty-four meters—which aligned with Vakil Bazaar running east–west to its south.
In addition, the square  enveloped by bazaar arcades to the north, south and west and flanked by the Ganj Ali Khan Caravanserai to the east. Also, in ancient Iran, near the governorships and were places for gatherings and ceremonies, the squares of the cities  established. The square likes surrounded by urban elements like, Caravanserai, school and bazaar. It is about ninety-nine meters by fifty-four meter.
GanjAli Khan
Ganj Ali Khan, governed Kerman, Sistan and Kandahar provinces from 1596 to 1621. Moreover, he was one of the famous rulers during the reign of Shah Abbas of Safavid. Also, as the ruler of Kerman province he constructed many monuments and buildings, displaying a modern architectural style of the time.  Besides, several inscriptions lay inside the complex detect the exact date when these places have been built. Mohammad Soltani from Yazd was the architect of the complex.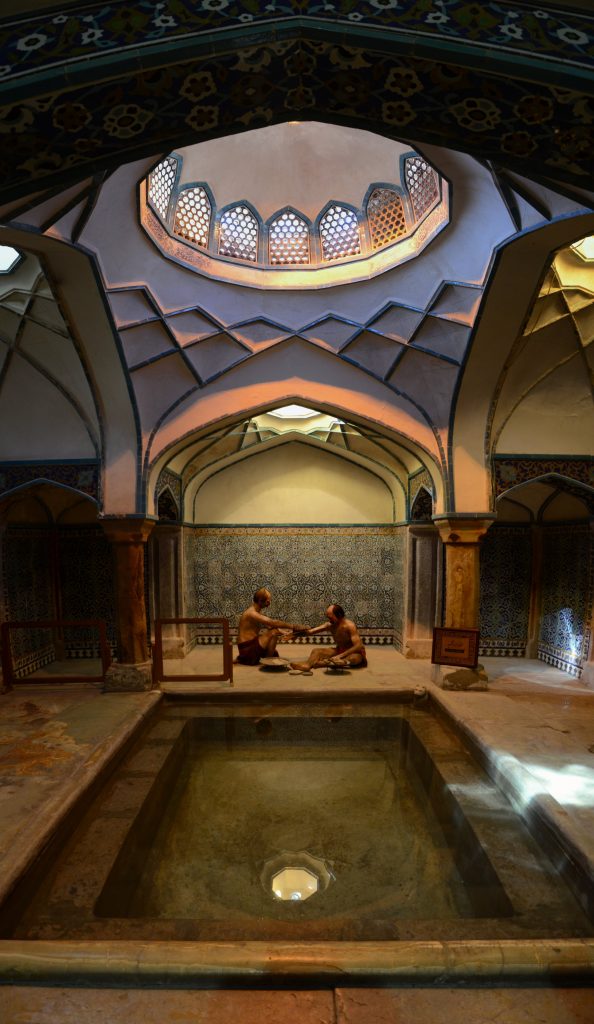 Bath
Ganj Ali Khan Bath built in 1631, it is situated on the southern side of the rectangular complex. Besides, this is a unique work of architecture with beautiful tile works, paintings, stuccos, and arches. Moreover, the entrance to the Ganjali bathhouse is located along a section of Vakil Bazaar south of the square, known as Ganjali Khan Bazaar. The complex was built in Isfahani style of architecture. This bath is a collection of art, architecture and using different materials with a suitable space which attracts people to itself.
Ganjali khan bath is a wonderful work, that with its beautiful tile-works, paintings plaster-works pats the eyes of every visitor. Baths  included among the inseparable part of city's building and are the main and important parts of Islamic cities and villages. The entrance to the Ganjali bathhouse is located along a section of Ganjali Khan Bazaar.
 History
The GanjAli Khan bath rendered service no later than 60 years ago. Also, the ceiling of the bath  originally covered with fine marble that admitted light from the outside. Moreover, later marble replaced by glass. Besides, Sunlight pours in from the roof overhead, creating superb light effects.
In Addition ,Water from an underground qanat, which the Khan himself twice excavated, flowed out in the city square and fed the city cistern. Although the cistern built in the time of Ganjali Khan, it know by the name of his son Ali Morad Khan, whose name is in the inscription. The cistern is 19.5 by 10 x 9 meters can hold some two million liters of water.
Ganj Ali Khan Architecture
The entrances of Ganj Ali Khan Bath building ornamented with painting of the Safavid era. In addition, a fantastic feature of its architectural is that the sculptured stones of the ceiling coincide with ornamentation of the flooring. Also, it is composed of a cold room, disrobing room and hot room, all covered with domes carried on squinches. Besides, the Baths has the unique works of architecture which decorated with exquisite tile works, stuccos, paintings and arches. 
Moreover, an exquisite blend of art and architecture, Ganj Ali Khan building has a staggered entrance which opens into six spacious apses. So, it has a main hall, corridors, vestibule, hashti, and hothouse. Also, exquisite drawings adorn its portal taken from ancient Persian tales such as Bahram Gour and Khosro va Shirin, and scenes of the camel caravan, wild beasts, and kings hunting.
Furthermore, the Ganj Ali Khan vestibule has six connecting rooms and each one belonged to a particular class of people. Besides, the main private bathing area reserved for the rulers and dignitaries. Also, the time stone is one its most interesting data-x-items to see. Moreover, its other special features include the water network, the hothouse, the ponds and numerous fountains, the exit and entrance, water from the qanats, the heating system and heat preservation, and its anti-earthquake structure.
Ganj Ali Khan Art
Upon entering the Bath, a dim, narrow, curving aisle leads visitor to an octagonal vestibule, itself linked to the cloakroom by a similar aisle. Also, Ganj Ali Khan has six separate changing rooms for the various social classes: the sayyeds, clergy, khans, wealthy merchants, and the common people. So, currently in each one of these sections, two statues portray this scene. From the changing rooms one enters the bath proper, an area of 46 by 30 meters.
In addition, each of which had a specific use such as massages and hot and cold baths. Also, the main Ganj Ali Khan bath comprises of a cold water pool with a ceiling similar to that of a tent supported by eight beautiful pillars.
Ganj Ali Khan Anthropological Museum
Besides, in 1971, the Ganj Ali Khan bathhouse was converted into an anthropological museum. Also, there are many lifelike statues in the closet section and main yard of the bath. Moreover, in 1973 these statues were designed at Tehran University's faculty of fine art and after that transferred to this museum.
Furthermore, all garments and exhibited objects are period pieces. Besides, razors, phials for rose perfumes and long-stemmed pipes to enjoy after the bath. However, lacking a proper sewage system, wells have dug in Kerman to discharge waste. Also, most of these wells now brimming with filth, mostly made of adobe and mud-brick. Moreover, floating on this sea of sewage, which has already damaged the Ganjali Khan Bath and grand Bazaar.
By this travel agency in Iran, you'll get the answer to the question: where is Iran?
You can visit this place through  Iran tour offered by Iran Destination, Iran Travel Agent:
This post is also available in:
Deutsch (German)
Español (Spanish)